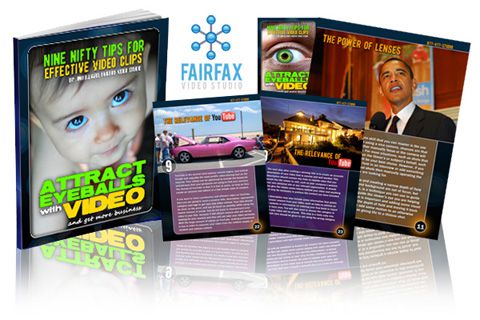 Nine Nifty Tips for Effective Video Clips by Jim Folliard
Warning: Read this book BEFORE you attempt to create your own Web videos!

A recent poll showed that 36 percent of people ages 18 to 29 are watching Internet videos every day. Eighty-nine percent of people in this age group also said that they view Web video overall. These are potential clients you NEED to reach, and since millions of people are searching online and watching videos, you need to be sure that they're watching YOUR videos, not your competitor's.
If you're not utilizing one of the greatest Internet marketing tools available right now, you are missing out on a tremendous opportunity.
Video WILL convert your online visitors into clients - in your videos, you will make a connection with viewers that will cause them to pick up the phone to call you.
One fantastic example is attorney Jeff Rasansky: he partnered with the Gearshift TVto create beautiful, professional and high-quality web videos for use on his site. Within one month, his bounce rate went from 75% to 59% and the average time on site went from 49 seconds to two minutes and 28 seconds.

That example shows exactly why you need to read this new book: "Nine Nifty Tips for Effective Video Clips!" You must create the best videos you can so that potential clients will be able to see exactly how you can provide the service or product they need. In this report, you will learn helpful tips to produce quality videos that will convert potential clients into actual customers.
Download the book today!